Custard Apple Story
Custard apples are a decorative and unusual fruit with their creamy white flesh and shiny black seeds. Eaten when perfectly ripe – but not too ripe – they are a delicate taste sensation and full of antioxidants and vitamins.
They contain significant quantities of vitamin C, thiamine, potassium, magnesium and dietary fibre. Despite high sugar content, the glycemic index of custard apples is low. Ayurvedic practitioners in India use various parts of the tree (Annona squamosa) for the management of diabetes.
Our new PinksBlush will have all the benefits of a custard apple but a different season and a distinctive pinky-orange skin. We believe these custard apples will be an Instagram favourite as well as a delicious treat for any meal. Explore some delicious Custard Apple Recipes. Their exotic shape and warm colour will make them a natural for interior décor and wedding tables too.
Growers interested in a licence for this new fruit, can find out more for our For Growers page.

The Story of our Blushing Fruit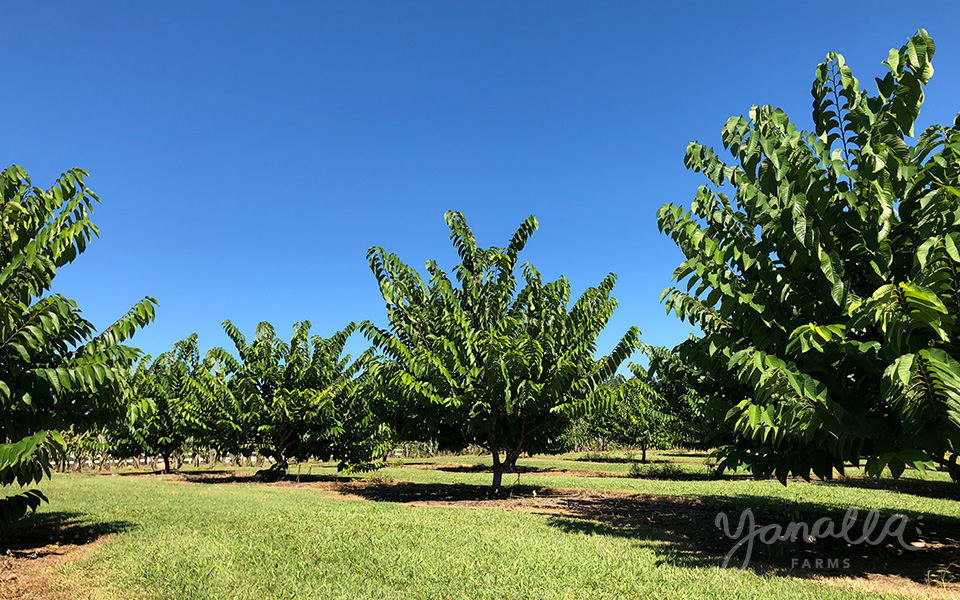 Custard apples were originally native to South America. Australian custard apples are a unique hybrid of the SUGAR APPLE (Annona Squamosa) and the CHERIMOYA (Annona Cherimola).
For a number of years before Robert and Karen took over the farm, the Martin family grew custard apples at Yanalla. Like other custard apples in the region they were harvested in late summer and autumn.
It therefore surprised Bob Martin (Robert's father) to see fruit ripening on one branch of one of the Pinks Mammoth custard apple trees in September. That was over two decades ago.
Each year, the tree repeated its unusual harvest. Robert convinced Bob that this was a valuable new variation and, in 2000, Bob started grafting bud wood from this branch on to rootstock. These trial trees and consecutive generations of the trees maintained their 8 distinctive points of difference.
In 2018, Plant Breeder Rights were granted to the Martins. The varietal name PinksBlush (Annona x atemoya) was officially recognised as a new variety of custard apple. The name perfectly reflects the beautiful pink and orangey skin of the ripe fruit.
New Fruit, New Opportunities
The Martins are currently working hard to create enough plants to supply growers with this exciting new variety. Growers will be licensed and supported to bring it to market. Consumers will have to wait a little longer to find this colourful new Australian fruit in their local shops. Trees typically take 2-3 years after planting to start producing. Potential growers can read more here.